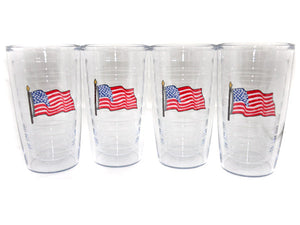 The Flag Tervis design is now available in the 16 oz. set of four. As always, thanks to its amazing engineering design, the double-wall insulation keeps cold drinks colder, and hot drinks hotter, while reducing condensation and preventing those annoying rings.

Each clear tumbler is made from high-grade polycarbonate, and features the U.S. Flag placed between the insulated walls. The ultrasonic seal makes it safe for use in the microwave, freezer and dishwasher.

Each tumbler comes with an unconditional lifetime guarantee!

Don't forget our 16 oz. red travel lids!