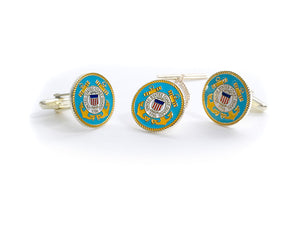 Honored members of America's oldest maritime law enforcement force, the highly skilled and dedicated sailors of the U.S. Coast Guard have protected our nation's shores and waterways for more than 200 years.

Executing their complex mission throughout the world, today's Coast Guard personnel use their expertise to strengthen America's domestic security, bolster America's military operations overseas, ensure improved maritime safety, and safeguard the marine environment, saving thousands of lives each year as they carry out their work.

This specially-minted set, which includes a single, polished brass tie tack and a pair of cufflinks designed to match, is the perfect way to honor the courage and commitment of all those who have helped the U.S. Coast Guard achieve its mission over the years. Each piece features the official Coast Guard Seal, rendered in impeccable detail and imbued with full-color enamel according to exact specifications.

Packaged in a plush-lined leatherette presentation box, this distinctive set can serve as a lasting souvenir of your own military service or can be given as a prestigious gift to any active-duty, retired, and former Coast Guard sailor or maritime enthusiast.

Whether accenting a wardrobe or neatly displayed in their own custom-fit case, these attractive accessories are sure to get noticed by all who see them and are guaranteed to be a source of pride for the recipient for years to come.