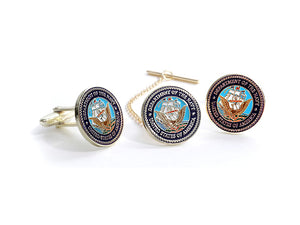 Vigilantly standing the watch for for over 200 years, the sailors of America's Navy are proud members of the world's greatest maritime military tradition.

Each and every day, on open seas, in shore stations, and in distant ports of call around the world, the men and women of this invincible force unite to tackle tough tasks in the name of liberty and justice.

This specially-minted set, which includes a single, polished brass tie tack and a pair of cufflinks designed to match, is the perfect way to honor the courage and commitment of all those who have helped the U.S. Navy achieve its mission. Each piece features the Navy Seal, rendered in impeccable detail and imbued with full-color enamel according to exact specifications.

Packaged in a plush-lined leatherette presentation box, this distinctive set is perfect as a lasting souvenir of your own military service or as a prestigious gift for any active-duty, retired, or former Navy sailor or maritime enthusiast.

Whether providing the perfect accent for your wardrobe or neatly displayed in their own custom-fit case, these attractive accessories are sure to get noticed by all who see them and are guaranteed to be a source of pride for years to come.