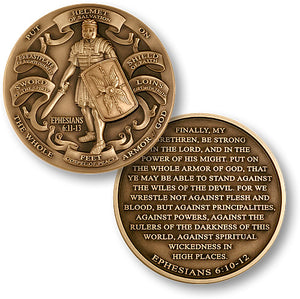 The warriors of America's armed forces fight in the name of justice and freedom around the world, risking their lives to defend these principles whenever and wherever they come under attack.

These fearless men and women answer duty's call day after day, armed with resolute confidence in their mission and the firm belief that America's cause in the world is right. Wielding the sword of honor and wearing the breastplate of righteousness, America's troops tackle every challenge with steadfast conviction and the desire to achieve absolute victory over tyranny.

The obverse depicts traditional pieces of armor, including the breastplate, shield, sword, and helmet. The reverse carries the inspirational Ephesians 6:10-12:

"Finally, my brethren, be strong in the Lord, and in the power of His might, put on the whole armor of God, that ye may be able to stand against the wiles of the Devil. For we wrestle not against flesh and blood, but against principalities, against powers, against the rulers of the darkness of this world, against spiritual wickedness in high places".

Each coin measures 1.75". 
Proudly supplied by A Service Disabled Veteran Owned Small Business