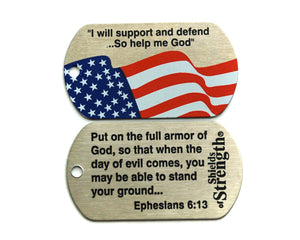 More than 1 million Shields have already been distributed to American military personnel in Iraq, Afghanistan and other military fronts.

Many readers of The Patriot Post have asked to purchase Shield of Strength tags, like those we are shipping to our Armed Forces, in small quantities for family and friends.

Includes chain and silencer.

Ephesians 6:13 Put on the full armor of God, so that when the day of evil comes, you may be able to stand your ground...

Note: these will be sent to YOU, not the troops.


100% of Sales Proceeds Support [OPSOS](https://patriotpost.us/opsos).