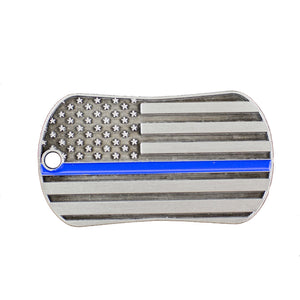 For anyone working as tirelessly as a police officer or law enforcement official does to protect America and its people, the Shields of Strength blue line law enforcement antique finish dog tag necklace is a meaningful gift.
The tag features the words of Matthew 5:9, "Blessed are the peacemakers, for they will be called children of God," making it the perfect way to express love, thanks, and support for the men and women who make the world a safer place by putting their own lives on the line.
The dog tag measures 1.95 inches by 1.08 inches and has an American flag with a blue line motif on the front. The stainless steel ball chain measures 24 inches in length.
100% of Sales Proceeds Support [OPSOS](https://patriotpost.us/opsos).