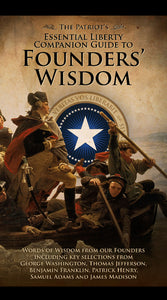 Softcover, 49 pages
Measures 6.25" x 3.5"
Founders' Wisdom, the highly-acclaimed supplemental guide to the The Patriot's Primer on American Liberty, includes Patrick Henry's "Give Me Liberty or Give Me Death" speech, Samuel Adams Advocates American Independence, Text of the First National Day of Thanksgiving in America, Closing Speech at the Constitutional Convention, George Washington's First Inaugural Address, Thanksgiving Day Proclamation, Rules of Civility and Farewell Address, as well as much more from Jefferson, Madison, and Franklin.
Don't forget to check out The Patriot's Primer on American Liberty here!
Note: The Patriot's Founders' Wisdom Pocket Guides may not be resold for less than the individual copy price of $.75, or resold online.)
Please note: We reserve the right to exclude bulk sized orders from expedited shipping services.