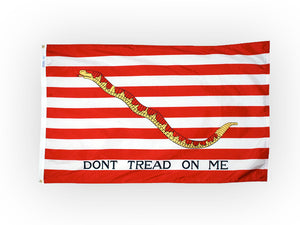 The Patriot Shop proudly offers the highest quality First Navy Jack flag available. This handsome historic 3' x 5' flag was first used by the Continental Navy in 1775.

The legendary First Navy Jack has since been a symbol of both the American Navy and spirit. The traditional thirteen stripes are crossed by a Timber Rattlesnake, which was especially significant in the American Revolution, as it became an avatar for the Colonial attitude. The snake does not strike unless provoked, and gives warning first with its rattle, which shown on the flag has thirteen layers. The bold words, "Don't Tread on Me" reiterate the point and ensure that it is understood.

At morning colors on September 11, 2002, in honor of those killed on September 11, 2001, all U.S. Navy ships began flying the First Navy Jack in place of the Union Jack for the duration of the global war on terrorism, in accordance with the orders of Secretary of the Navy.

Made in the USA of tough SolarMax nylon.