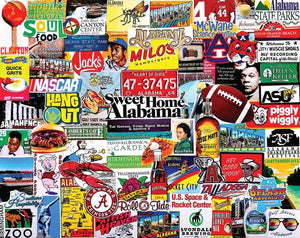 You will love all the Alabama goodness of this puzzle! Plan your next visit to restaurants, historical landmarks, state parks and beloved universities!
The Yellowhammer State's oldest city is Mobile, founded by French colonists in 1702 as the capital of French Louisiana. When the French lost to the British in the Seven Years' War it became part of British West Florida, and after the Revolutionary War the territory was divided between the United States and Spain. Sections of what is now Alabama have been part of Spanish West Florida, the Republic of West Florida, Mississippi Territory, and the Province of Georgia before being admitted as our 22nd state in 1819. 
This puzzle is a collage tour of this eclectic state on a 1,000 piece puzzle with a finished size of 24" x 30".

Made in the USA!
1 per customer