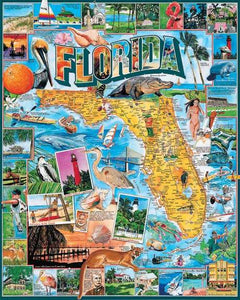 Oh my, it's always time for a vacation to Florida! 
This wonderful Florida jigsaw puzzle captures the Sunshine State in all its tropical glory. You'll enjoy discovering the flora as well as the fauna, like flamingos, pelicans, manatee, deer, and gators along with historical state figures and treasures like the Key West Lighthouse and so much more. Visit Hemingway's home or travel to Miami's colorful South Beach. Canoe, kayak, snorkel or just explore from coast to Florida coast.
1000 piece jigsaw puzzle: Finished size 24" X 30".
Made in the USA!
Limited to 1 per customer.