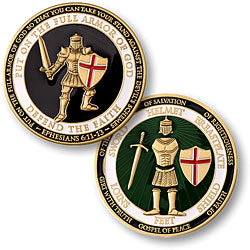 "Put on the full armor of God so that you can take your stand against the devil's schemes." This passage taken from the New Testament in Ephesians 6:11-13, encircles the warrior depicted on the front side of our brass and enamel coin. The back side features each of the pieces of the Armor of God: the Helmet of Salvation, the Breastplate of Righteousness, the Shield of Faith, the Feet shod with the Gospel of Peace, Loins girt with Truth, and the Sword of the Spirit.

This coin makes a thoughtful gift or reminder for warriors in all walks of life facing real or figurative battle.

Coin is 1 3/4 inch (44mm) round.