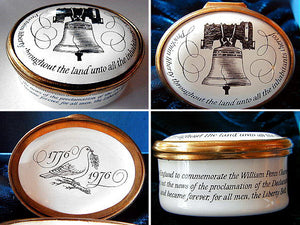 Wonderful limited edition enamel box by Bilston & Battersea Enamels and designed by Halcyon Days in the 1970's.

The Liberty Bell on the lid commemorates the bicentennial in 1776. The top lettering is from the Liberty Bell inscription, " Proclaim liberty throughout the land unto all the inhabitants thereof." The backside of the lid features a dove with an olive branch and the dates 1776 - 1976. On the outside of the box, the text reads, " Cast in 1752 in England to commemorate the William Penn Charter of Privileges, on July 8, 1776 it rang out the news of the proclamation of the Declaration of Independence and became forever, for all men, the Liberty Bell."

Each box is a numbered release of 250 and has a Bilston & Battersea Enamels backstamp. The oval box has an ivory enamel background with black lettering, black decoration and copper frame. The original presentation box is included and is medium blue in color and lined in blue velvet. The certificate of authenticity is also numbered xx/250 and describes the piece. Also included is a pamphlet describing the history of Bilston & Battersea. The enamel box measures 1 13/16" long, 1 1/2" wide and 7/8" high. Some box lids may come off if pulled too hard, however they can easily be repaired/glued.