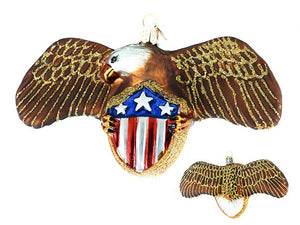 The bald eagle was chosen as a national emblem by the Second Continental Congress in 1782. For over 200 years, the bald eagle has symbolized what America stands for: Freedom, Courage, Strength, Justice and Excellence. The image of the bald eagle has a special meaning for many Americans and represents the determination of our country.

This exquisitely hand-crafted glass ornament from Old World Christmas will make a bold statement of your patriotism while displayed on your Christmas tree.

Measures 3 1/4" x 6". Each figural glass ornament produced for Old World Christmas is hand crafted in an age-old tradition using the same techniques that originated in the 1800's. Molten glass is mouth-blown into finely carved molds that are available only to Old World Christmas. A hot solution of liquid silver is poured inside the molds then ornaments are hand-painted and glittered in a series of labor-intensive steps to achieve the beautiful creations.