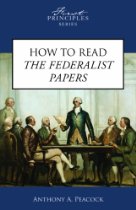 The Heritage Foundation First Principles Series
How to Read the Federalist Papers
Softcover, 107 pages

Thomas Jefferson called The Federalist Papers the best commentary on the principles of government, which ever was written. Over 200 years after the writing of these essays, most commentators — liberal and conservative — still agree.

While The Federalist is indeed an important resource for understanding the meaning of our Constitution, its relevance is based on something deeper. The authors of the essays knew that the principles of our Founding would not always be unquestioned, so they gave us the strongest defense of those principles as part of the immediate political struggle for ratification. The Federalist not only illuminates the meaning of the Constitution's text, it also explains how our Constitution embodies the core principles of the Declaration of Independence and why it must be preserved in the face of present struggles.

In this monograph, Anthony Peacock, professor of political science at Utah State University, offers us a brief guide to The Federalist, a road map illuminating the major issues treated in the essays and explaining their continued relevance for us today. An appendix of important passages on contemporary subjects is also included as a helpful resource for interested readers.

Despite our contemporary challenges, we still enjoy some measure of constitutional government. More importantly, our Founders have left us with their teaching and example, showing us the way to restore our Constitution to its rightful place. Our Constitution will endure only if our leaders understand why it is defensible, and there is no better argument in favor of the Constitution that The Federalist Papers.