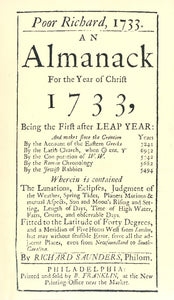 Poor Richard's Almanack for 1733
by Richard Saunders (Benjamin Franklin)

First published in 1733, this work shows Franklin's unusual and controversial approach of injecting witty, unexpected entries between standard tables of tides, planetary motion, and weather predictions in his Almanack. It became the most popular book of its kind in colonial America. This facsimile offers a unique and entertaining look at 18th century American life with such pithy saying as, "He that lies down with Dogs, shall rise up with fleas."

24 page booklet

Approximately 6.75" x 4.25"