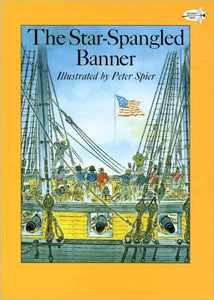 The Star Spangled Banner
Illustrated by Peter Spier
Softcover, 56 pages

This beautifully illustrated copy of our national anthem will be a book your children will reach for again and again.
Peter Spier's unforgettable historical illustrations of the battle at Ft. McHenry during the War of 1812, along with many other historical American vignettes, coupled with the words of 3 verses of The Star Spangled Banner make a winning combination. The book also includes a section on the current events during the time Frances Scott Key penned the poem, as well as a photocopy of the anthem written in Scott's own hand and pictures of flags used in the United States, past and present.