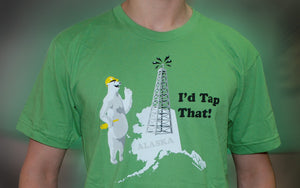 The U.S. currently imports 13 million barrels of oil a day to meet the 21 million-per-day consumer demand. Due to political instability in Africa and the Middle East, 28% of those imports come from less-than-dependable providers. The most readily available proven U.S. oil reserves (an estimated billions of barrels) are under a vast wasteland on the northern slope of Alaska called the Alaskan National Wildlife Reserve (ANWR).

But Albert Arnold Gore and his gullible warming Gorons are intent on stopping further domestic oil exploration, claiming that human industrial activity is a major factor accelerating global warming, thus endangering the Polar Bear! If declared threatened, the Polar Bear would become the first species designated a potential victim of global warming.

If global warming, as the Gorons predict, is inevitable, then preventing Arctic oil exploration will not prevent the Polar Bears from extinction. Get our exclusive and irreverent "I'd Tap That" Polar Bear T-shirt and show your support for U.S. oil exploration!

T-shirt color: Grass

Made from 100% combed cotton jersey.