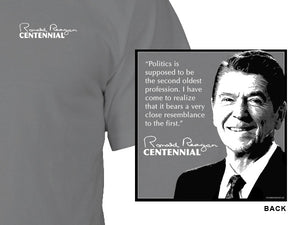 Made to commemorate Reagan's 100th birthday, our exclusive Ronald Reagan Centennial t-shirt in deep gray features Reagan's image from the official presidential portrait beside one of his most humorous quotes which cuts straight to the heart of politics. The back of the shirt proclaims,"Politics is supposed to be the second oldest profession. I have come to realize it bears a very close resemblance to the first."

This handsome 100% cotton shirt sports a pocket design featuring the Gipper's signature on the front over the left breast.

Don't miss our blue Ronald Reagan Centennial t-shirt!