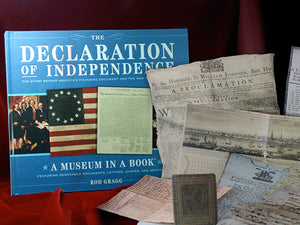 The Declaration of Independence- The Story Behind America's Founding Document and the Men Who Created It by Rod Gragg is called "a museum in a book". This fascinating 48 page book featuring removable documents, letters, diaries and artifacts is the perfect gift for the patriotic history lover on your list, young or old.

Experience the bravery of the men who risked their lives and honor for independence as you examine...

*a full-size replica of the Declaration of Independence

*John Adam's diary from a 1774 session of the Continental Congress

*John Dickinson's draft of the Olive Branch petition

and much more amid many colorful pictures of historic drawings, paintings and sketches.