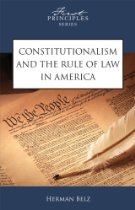 The Heritage Foundation First Principles Series
Constitutionalism and the Rule of Law in America
by Herman Belz
Softcover, 85 pages

The rule of law may be the most significant and influential accomplishment of Western political thought. Nowhere expressed yet evident throughout, the United States Constitution depends on this bedrock concept, the first principle on which the American legal and political system was built.

The design, forms, and institutions of that system -- what is called the constitutionalism of the American Founders-- define the necessary conditions of the rule of law and limited government, and hence liberty. Made up of the various structural concepts embodied in the Constitution of the United States, constitutionalism comprises one of our most important first principles. The rule of law and constitutionalism are important concepts not because they are old, or unique, or exclusively ours for that matter, but because all together they form the architecture of freedom.

In this monograph, noted professor of constitutional history at the University of Maryland Herman Belz tells the story of the development of these principles and explains how they were established in the United States. Strained under the attack of progressive and then New Deal reformers, revived under modern conservatism and the argument for constitutional originalism, these principles remain just as relevant and controversial as they were in 1787. Today, it is the task of those who wish to preserve liberty and self-government to conserve and defend constitutionalism and the rule of law.